Facilitating Design Thinking.
Introducing design thinking as a process for creating valued change.
Facilitating Design Thinking.
Invia is an internal innovation group within the public healthcare organisation of Southern Denmark. DEVELOPA teamed up with Invia to create a tool for introducing design thinking as a process in enabling healthcare professionals to self-facilitate when creating valued changes within their daily working procedures.
Progressive Ideation is an inspiring tool designed to guide people through 4 key phases of producing meaningful ideas. It's an intuitive tool designed to be introduced and mastered within a short workshop or meeting.
Each set of the tool's faces represents a phase in the process. The tool poses questions and offers tips helping people to identify relevant development directions, generate ideas, evaluate to select the right ideas, and communicate their significance clearly and concisely. It's simple, dynamic, effective, and good fun too.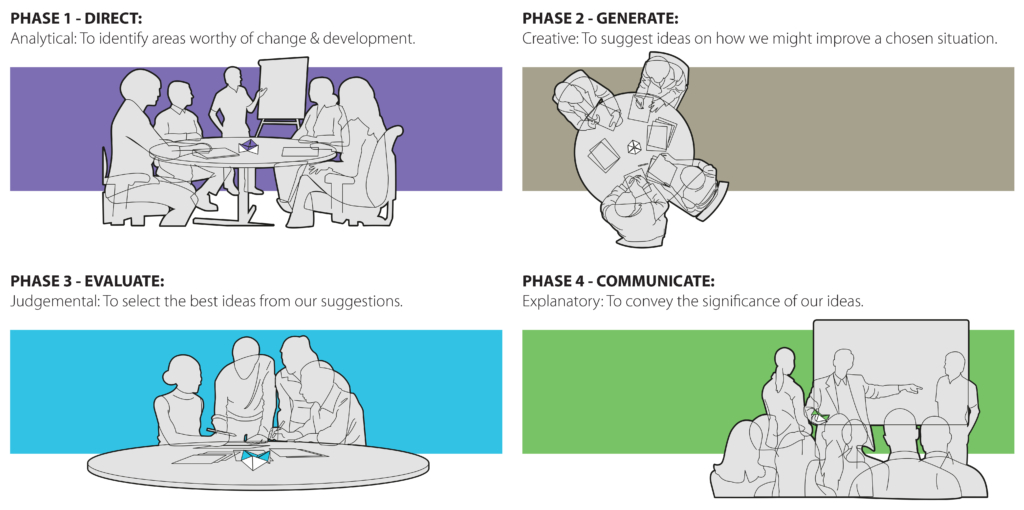 Using the tool, participants are encouraged to sift through insight material organising & identifying key directions to work further with. Utilising the tool to think laterally, they generate and document ideas. The tool guides the participants to group their ideas and evaluate them based on a system of criteria. Then it's time to communicate these new ideas. The tool ensures that they come across in a clear, concise & understandable manner.
The physical tool is made from printed and folded card. The polyhedron's 24-faces rotate around its centre. The physical fiddle-factor and fun nature of the tool help in visually branding design thinking as a useful and engaging process within the organisation.
After an initial session, each participant is empowered to use the tool and design thinking as a process for producing and publishing ideas within the organisation, allowing positive and continual development to flourish.
DEVELOPA roles: Design Facilitation, Design management, Design Process, Product Design
Let's talk about project opportunities & challenges...